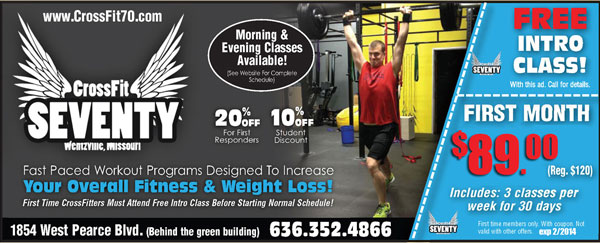 Click here for Printable Coupon
What is CrossFit?
CrossFit is a program that delivers fitness that is, by design, broad, general, and inclusive. We create unique daily workouts that are fun and competitive. CrossFit is a unique workout program that allows you to be strong in everyday activities. CrossFit mixes strength, gymnastic, and cardio movements to help you attain real fitness in a fun way. Every workout can be scaled to your personal fitness level. Additionally, we choose to keep class sizes small so you know the trainer personally and build a strong community of fitness minded friends.
For More Information CLICK HERE
What Are The Costs?
First Session is FREE for you to try it out and have a blast!
We break our memberships up into monthly costs based on how many times a week you come. We keep class sizes small to ensure you get a personal experience with a CrossFit Level 1 Trainer every day that you workout.
CrossFit 70 is a coaching/training facility. You will have certified CrossFit trainers coaching every time you step into our doors.  At a local gym like the local YMCA or Globo big box gym you may only pay $50 a month. You have to understand that that is an access fee. This small fee just gives you access to their gym. Inquire about personal training there and you'll see the value of our Coaching Membership.  In this region, 12-15 personal training seasons per month can cost you over $700 per month at your local gym plus the cost of membership. We are tiny fraction of that price — and you will get better results and have a better time.  We're actually very affordable for the service and results you receive.
3 Times a Week – $120 per month (when you choose the auto debit option)
Unlimited – $150 per month (when you choose the auto debit option)
Drop-in – $20 (with previous CrossFit experience)
Discounts:
Military & First Responder Discount (active or retired)
Family Discount(Immediate Family Only)
Student Discount